Best Sports Cars Available For Between $100,000 And $200,000
If you are in the market to spend hundreds of thousands of dollars on a car then firstly congratulations on all the money you have and secondly, make sure you check out our best cars over $200,000 list. For those in a slightly lower car-buying budget, we have compiled all the amazing machinery available between $100,000 and $200,000. We already pulled together the best sports sedans which a lot of people told us was very helpful so this list includes some of those cars as well as some more focused offerings.
It is worth pointing out that despite the fact that we are supercar and sportscar guys (which means the list is biased towards performance cars), there is still a lot of variety and there should be something for everybody.
At this price point we noticed three groupings. Firstly is the "do it all" family car. This is the Mercedes or BMW guys giving you a car that allows you ferry the kids around and still get you excited on weekends with massive power and effortless performance all in one luxury package. The second group is the all-around sports car. A traditional two door sports car from McLaren or Porsche that is primarily a performance car that can still be used easily day to day and is not full of compromises. The third group is the extreme machines. These are the hyper-focused offerings that aim to be the best of the best in one specific area. The Porsche Cayman GT4 is a great example of a car that simply wants to be the most engaging sports car you can buy. At the other end of the spectrum is the Nissan GT-R which aims to outperform every other car in every performance metric you care to name.
We can say with 100% certainty that every car on this is great. You cannot go wrong buying any car on the list. It really depends on your goals for your car. Road or track. Family car or two seater. Luxury performance car or straight up race machine, here's our list of the top cars you can buy between $100,000 and $200,000
Nissan GT-R
Price: From $101,585
Power: 600 hp
Torque: 481 lb/ft
Engine: Twin-turbo 3.8L V-6
0-60 mph: 2.9 sec
Top Speed: 171 mph
Summary: It is still Godzilla but this time with some manners.
The Nissan GT-R is still an unfiltered, aggressive and extremely rapid sports car. While other makers have made a lot of progress since the GT-R made its first appearance, make no mistake, this is still the cheapest way to get this kind of speed. Absurd speeds, practicality, price – what isn't there to like. If you want the fastest car down an unknown road, four-seats and a decent boot with the best four-wheel drive for performance then it is still hard to not consider the GT-R. The engine is the twin turbo 3.8-liter V6 with 550bhp and 466 lb/ft of torque. It'll do over 193mph, but more than that, use the 'R-Start' launch control, and you can get 0–62mph acceleration times below three seconds. That's not a car, that's a bullet.
Nissan's supercar-smashing GT-R has had its biggest update since launch for 2017. Most noticeable is the new interior which is a big step up from last year and is almost worthy of a $100k+ car. The exterior styling has also been updated with a new front face that looks more modern. The Nissan GT-R was already epic and near-perfect. Continued refinement and improvements each year continue to ensure it evolves and stays ahead of the pack. Spectacular all-wheel-drive performance that scares supercars at just over $100k. Not cheap, but still a bargain.
BMW M5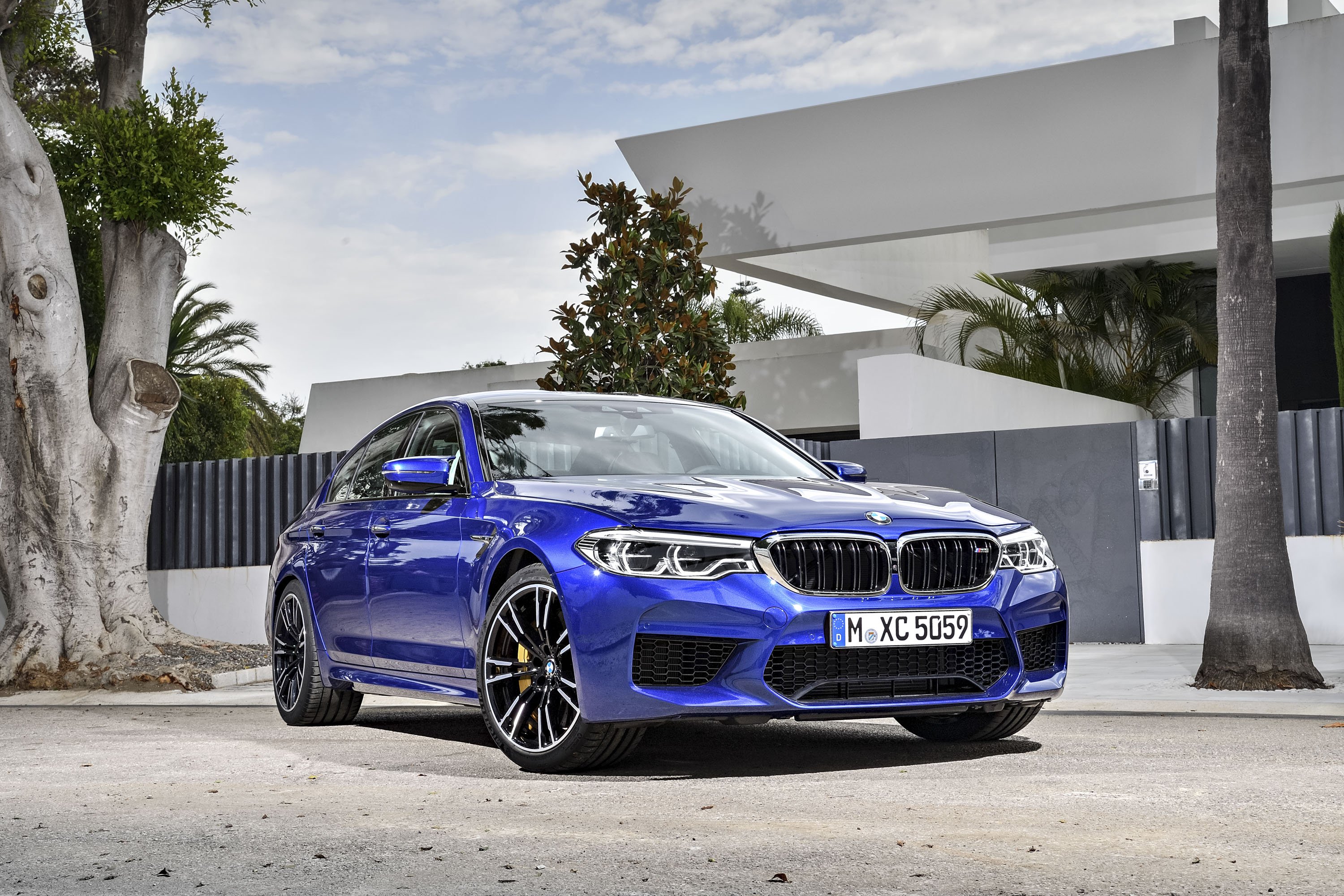 Price: From $102,700
Power: 617 hp
Torque: 553 lb/ft
Engine: Twin-turbo 4.4 L V-8
0-60 mph: 2.8 sec
Top Speed: 163 mph
Summary: Still the executive sedan that does it all perfectly
The new BMW M5 is a return to form for BMWs M division. Powered by a twin-turbo 4.4-liter V-8 with 600 hp and 553 lb-ft of torque we knew the M5 would be fast, but were pleasantly surprised that BMW found a way to make it fun and sporty again even with the move to all wheel drive as standard. We love the fact that you can disconnect the front wheels and hoon around (sideways) in rear-only drive mode. Subtle design changes and upgraded interior with subtle M5 insignia round out this epic four door family package.